Entry
When approaching a brand-new construction, it's like a fresh canvas waiting for your creativity to shine. All options are open, and any design style or element can be achieved. The endless possibilities can be overwhelming, and that is where the fun begins as the design options narrow down and the home gains its character, coming to life as it takes shape.
A pivot wooden door with black hardware was selected as the entry. As the door opens, guests are embraced by rich, black-textured woven walls. A large round mirror reflects the rooms beyond, lending a feeling of being thoughtfully guided through spaces that continue to reveal themselves as guests journey throughout the home.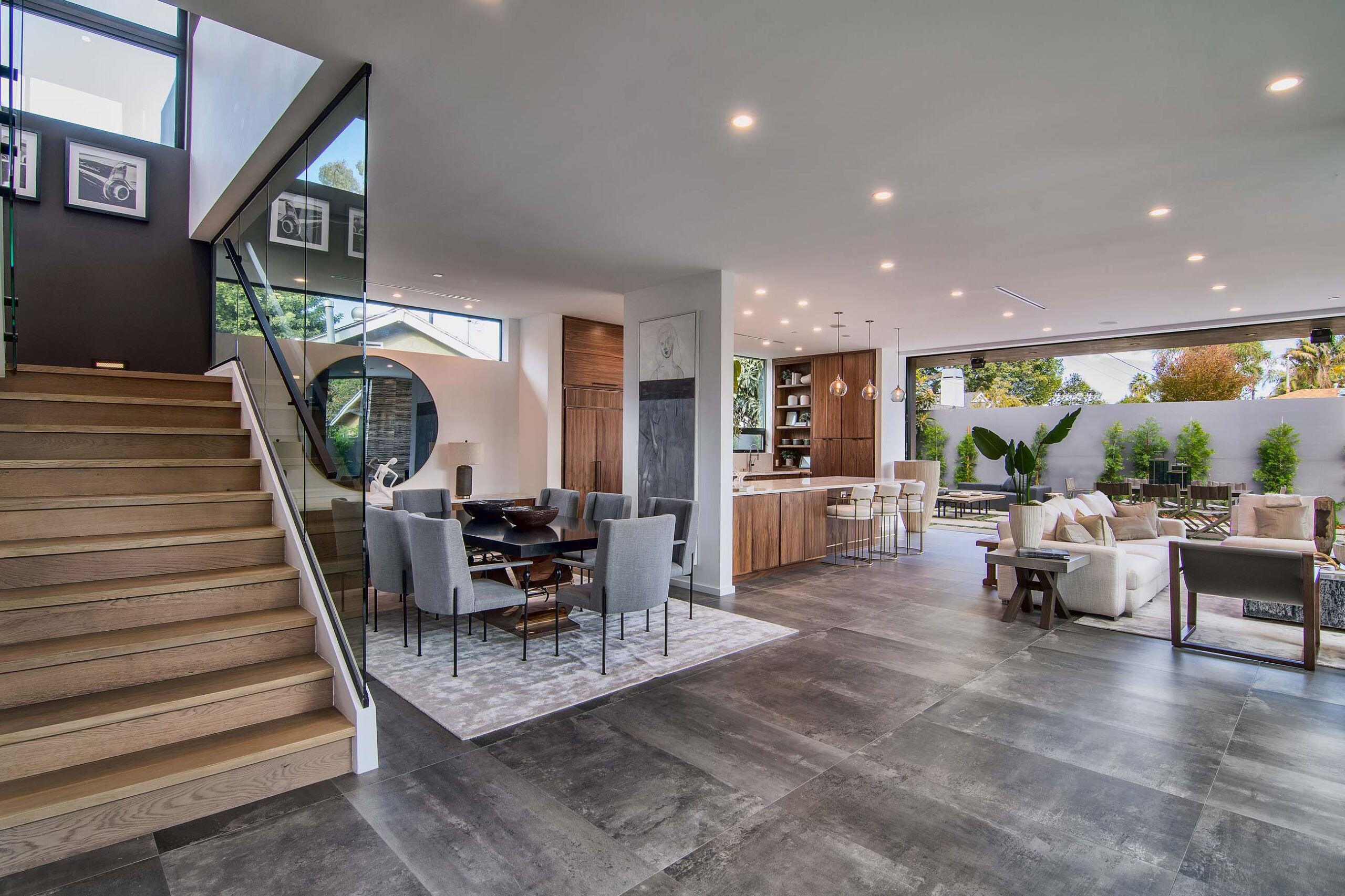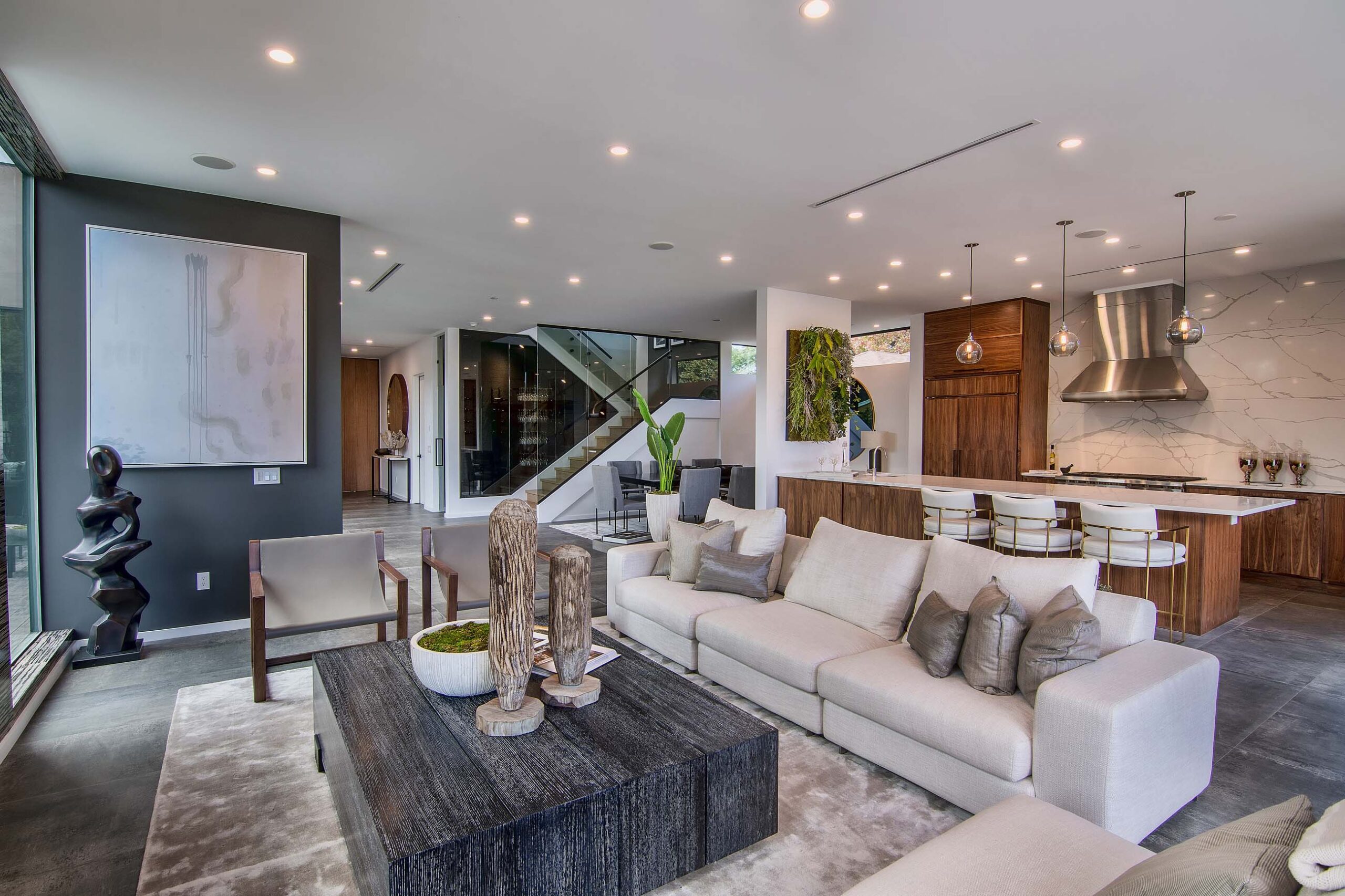 The Entertainment Space
This house was designed to be an entertainment dream house. (What a beautifully fun blank canvas!) We chose to look up and out first by implementing 12-foot ceilings and creating a large open space. This grand space serves as a central, open, and inviting gathering point that seamlessly guides guests to delightful outdoor nooks, alluring them to choose a cozy spot or mingle between them.
The openings were designed to be floor-to-ceiling, and we chose Fleetwood windows and doors. A massive pocket door opens the house to the outdoors, achieving an amazing indoor-outdoor free flow.
The materials of the home were chosen to be both modern and warm. We utilized natural dark gray slate flooring combined with walnut wood cabinetry and Italian Calacatta marble to introduce earthy tones and warmth into the modern open floor plan. The beauty of natural materials in this modern entertainment space transforms the overall feel into that of a warm and cozy home.
The Master Kitchen
The kitchen was tucked away yet remained open and inviting, with two floor-to-ceiling picture windows where the pool water reflects into the home. Having the fireplace centered between those two windows created a magazine feel, incorporating earth, water, and fire elements all in one focal wall of the home. The Chef's kitchen was designed with a large island covered with Italian marble, featuring beautiful stone veins that complement the walnut wood cabinetry. It quietly boasts the importance of entertaining with a complement of Wolf appliances.
The dining room was partially enclosed and faced an outdoor cozy sitting area with an outdoor fireplace, where you can end your meal with a hot cup of tea and enjoy the California weather.
Under the stairs, we utilized the "dead space" and created a wine cellar that flows beautifully with the dining room right next to it.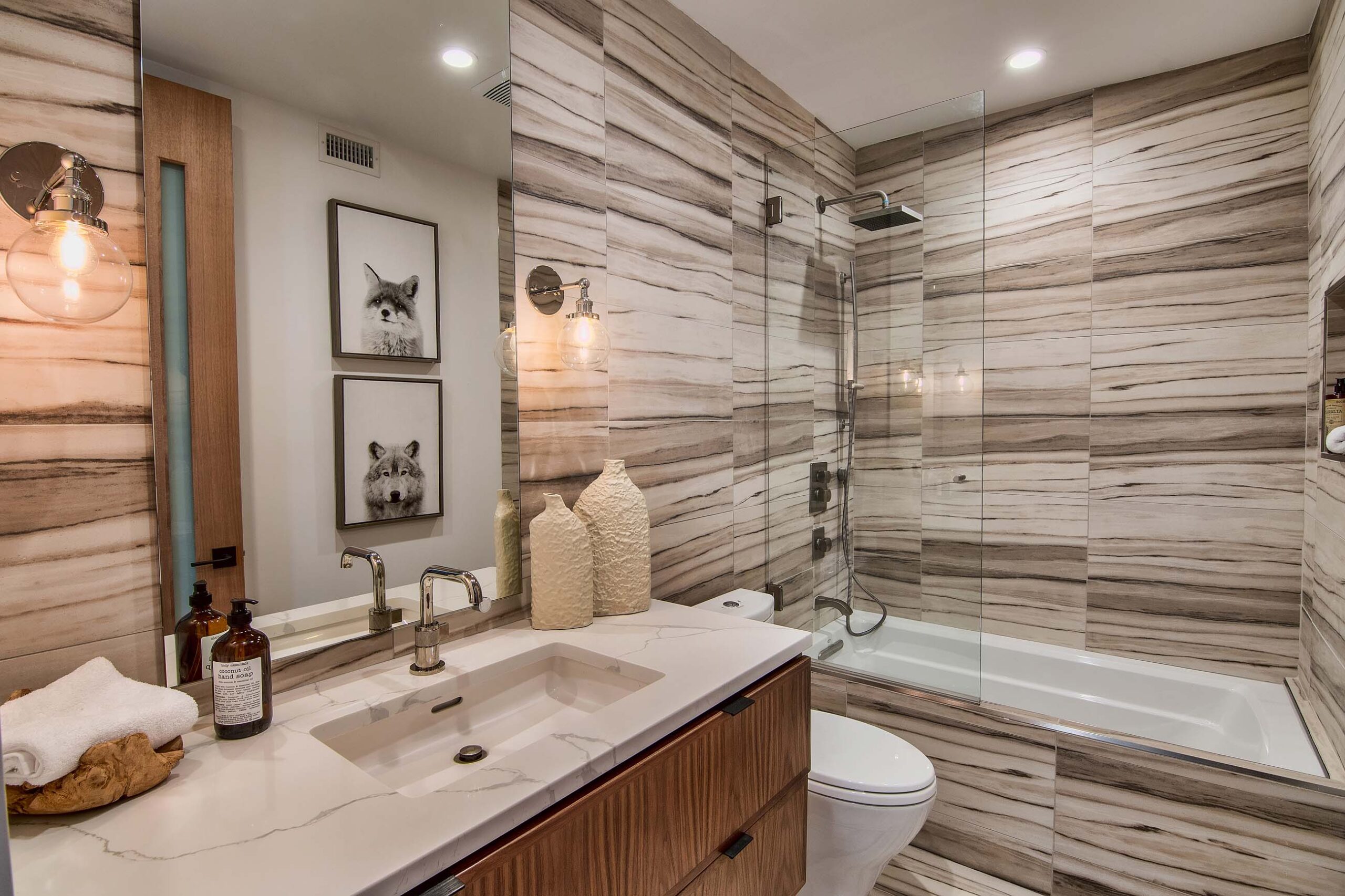 The Bedrooms
Upstairs, the theme continues. There is an abundance of outdoor spaces with a balcony accessible from every bedroom. By using wide plank wood floors, custom walnut cabinetry, vaulted ceilings, and carefully selected wallpapers along with large windows, a warm, sophisticated, and modern vibe permeates throughout the home. Each bedroom is equipped with an ensuite bathroom where we took advantage of the vaulted high ceilings to incorporate a picture window, allowing ample sunlight to flood the space.
As you enter the Master Bedroom, you are greeted by a set of double wooden 10-foot doors and an abundance of natural light streaming in from the large balcony that overlooks the pool. The walk-in closet and the Master Bath were designed to create a seamless flow, featuring matching walnut cabinetry. We opted for a rain shower, large mirrors above the vanity, and a beautiful chandelier hanging above the soaking tub, ensuring that every shower is a unique experience.
At the heart of the second floor is a family gathering area. This space was designed to honor the essence of family, providing a cozy setting where each member can cuddle together, watch a movie, or simply enjoy quality time in this intimate space.
The Outdoors
The placement of the infinity pool to the side allows for a spacious yard, perfect for expansive outdoor dining, poolside lounging, and cozy sitting areas. The privacy of the outdoors is enhanced by tall trees and greenery, creating an intimate atmosphere for entertainment.
This residential design-build property in Venice Beach, California was a collaborative effort between the owners and our team. Close partnerships were forged with architects, builders, craftsmen, designers, landscapers, and suppliers. From the foundation up, our labor of love, precision, and attention to detail brought beauty to this project.